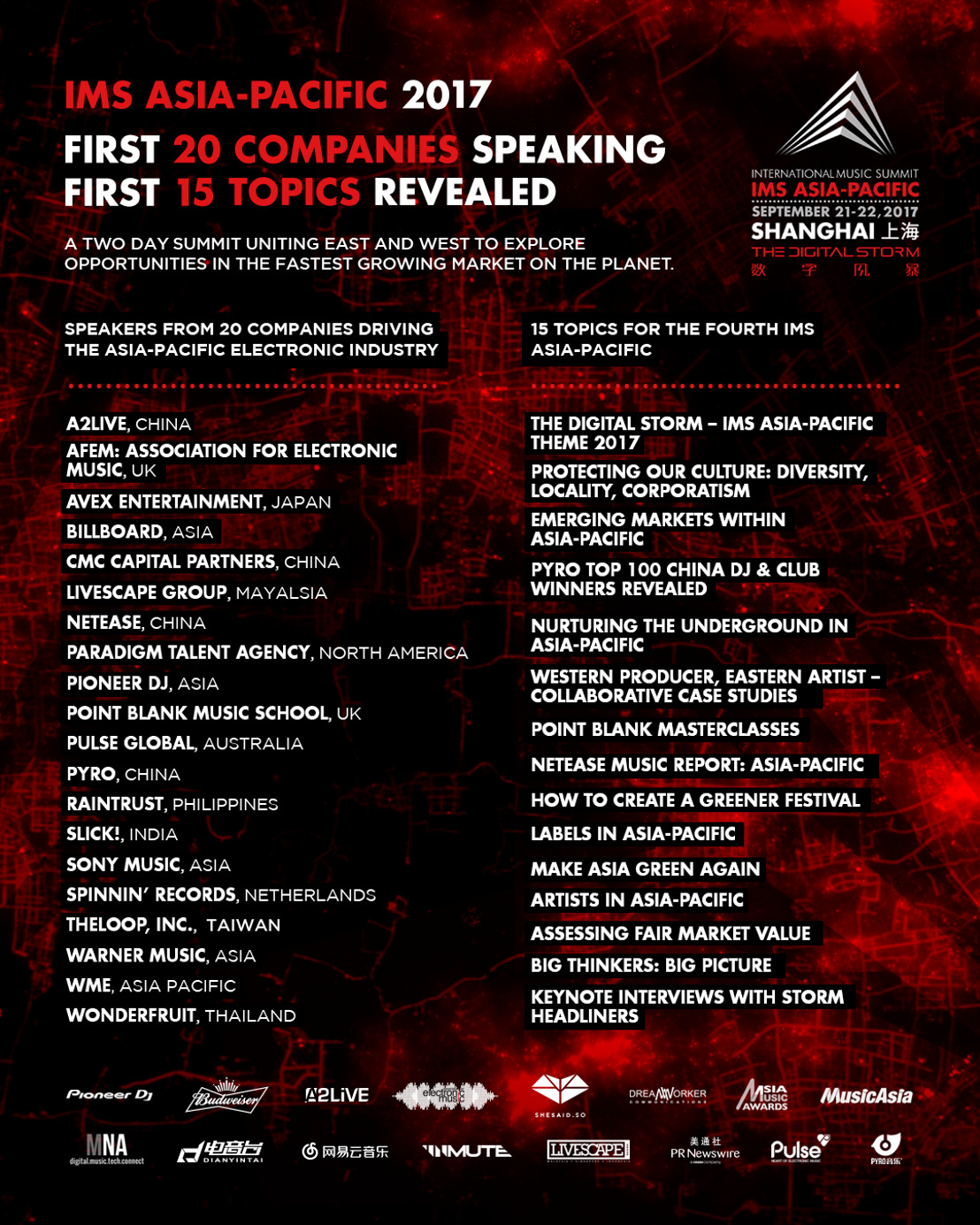 IMS Asia-Pacific Announces Topics and 20 World-Renowned Companies Speaking at Shanghai, China, Sept 21-22
Including: Warner Music, Billboard China, Pioneer DJ, Paradigm Talent Agency, Spinnin' Records, Association for Electronic Music, Avex and more
Tuesday, August 1, 2017 — International Music Summit (IMS), in partnership with Budweiser STORM Festival, today revealed their initial programming details and company representative speakers for the fourth IMS Asia-Pacific, taking place Sept 21 – 22 in Shanghai, China at the Hyatt on the Bund. IMS AP will gather global artists, thought-leaders and industry figureheads to explore the growing influence of electronic music and the issues, challenges and opportunities that face the industry globally and, notably, in Asia. The 2017 IMS Asia-Pacific is sub-titled 'The Digital Storm' and will focus on the ever-evolving digital landscape of the music industry.
The first speakers come from 20 companies that drive the Asian-Pacific electronic music market today, including China's live dance music leader A2LiVE, Association for Electronic Music (AFEM), global talent agency Paradigm, Point Blank Music School, major label reps from Sony and Warner Music, industry-standard hardware manufacturer Pioneer DJ, distinguished music publication Billboard, and Spinnin' Records, the label that gave rise to superstar Martin Garrix.
These visionaries will discuss hot-button issues that affect the community at large and Asia-Pacific, tackling topics like the preservation of dance music culture, diversity, locality and corporatism, emerging markets within the region, nurturing the underground in a very commercial region, creating a greener music festival, assessing fair market value in the dance music space, and looking at the big picture of the dance music industry in Asia. Attendees will also get the first look at the NetEase Music Report: Asia Pacific, attend Point Blank Music School Masterclasses, and hear the winners of the Pyro Top 100 China DJ & Club Winners.
"The potential of streaming and the Digital Storm in Asia is phenomenal, and the electronic music industry needs to be ready to embrace the opportunity," says IMS co-founder Ben Turner. "However, right now, it's a mainstream music market and IMS hopes to help redress the balance by helping the region support a full eco-system like we enjoy in other parts of the world. These are also testing times in the live market and best practices at events in Asia remain a huge concern. As always, there is plenty to debate at IMS Asia-Pacific."
Last year IMS Asia-Pacific hosted two of the world's biggest artists Skrillex and Alesso, as well as Pete Tong, representatives from CAA, AM Only and WME, Universal Music and Sony Music, for a wide-ranging series of discussions about the Asian market. Boiler Room also returned to the city of Shanghai with a special debut from Skrillex, which was one of the most viewed and highest streamed Boiler Rooms ever.
In 2015 IMS revealed that electronic music event attendance in China had risen 30% since 2011. The region is filled with a growing population of young, eager fans, hopeful talent and hungry professionals aiming to help cultivate the electronic music scene in the region and in China, the world's biggest potential market for electronic music. 2017's IMS Asia-Pacific will bridge the gap between East and West and provide unique firsthand insight into the artists, businesses and events that are making Asia-Pacific one of the most exciting and rapidly growing electronic music markets in the world.
Budweiser STORM Festival, produced by A2LiVE, has become China's premier electronic music event since its launch in 2013. In addition to its flagship Shanghai event STORM now hosts 9 regional events around China and in 2017 will be the first Chinese electronic music event to host an event outside China, with shows in Australia. STORM's attendance in 2017 is expected to surpass 200,000 and they have hosted some of the world's biggest DJs including Kaskade, Galantis, Skrillex and more. Earlier this year A2LiVE Festival announced the launch of STORM Records! a Chinese focused electronic music label with European powerhouse label, Spinnin' Records.
FIRST TOPICS ANNOUNCED
THE DIGITAL STORM – IMS ASIA-PACIFIC THEME 2017
PROTECTING OUR CULTURE: DIVERSITY, LOCALITY, CORPORATISM
EMERGING MARKETS WITHIN ASIA-PACIFIC
PYRO TOP 100 CHINA DJ & CLUB WINNERS REVEALED
NURTURING THE UNDERGROUND IN ASIA-PACIFIC
WESTERN PRODUCER, EASTERN ARTIST – COLLABORATIVE CASE STUDIES
POINT BLANK MUSIC SCHOOL MASTERCLASSES
NETEASE MUSIC REPORT: ASIA-PACIFIC
HOW TO CREATE A GREENER FESTIVAL
LABELS IN ASIA-PACIFIC
MAKE ASIA GREEN AGAIN
ARTISTS IN ASIA-PACIFIC
ASSESSING FAIR MARKET VALUE
BIG THINKERS: BIG PICTURE
KEYNOTE INTERVIEWS WITH STORM HEADLINERS
FIRST LIST OF COMPANY SPEAKERS
A2LIVE, CHINA
AFEM: ASSOCIATION FOR ELECTRONIC MUSIC, UK
AVEX ENTERTAINMENT, JAPAN
BILLBOARD, ASIA
CMC CAPITAL PARTNERS, CHINA
LIVESCAPE GROUP, MALAYSIA
NETEASE, CHINA
PARADIGM TALENT AGENCY, NORTH AMERICA
PIONEER DJ, ASIA
POINT BLANK MUSIC SCHOOL, UK
PULSE GLOBAL, AUSTRALIA
PYRO, CHINA
RAINTRUST, PHILIPPINES
SLICK!, INDIA
SONY MUSIC, ASIA
SPINNIN' RECORDS, NETHERLANDS
THELOOP INC., TAIWAN
WARNER MUSIC, ASIA
WME, ASIA
WONDERFRUIT, THAILAND
For more information and advanced badges purchasing,please visit www.imsasiapacific.cn
Date: Sept. 21st – 22nd, 2017
Venue:Hyatt on the Bund, No.199 Huang Pu Road, Shanghai, China

About IMS
International Music Summit (IMS) is an educational, inspirational and motivational thought leadership platform dedicated to creating awareness of, and appreciation for, electronic music, the artistry related to DJing and all related popular art forms, primarily through the presentation of summits and events that celebrate the historic and ongoing contribution of the genre to art and culture worldwide. IMS hosts major events annually in Ibiza and China. IMS was created by Ben Turner, Danny Whittle, Mark Netto, Simeon Friend and BBC Radio 1 broadcaster Pete Tong.
About A2LiVE
A2LiVE is a live entertainment company based in Shanghai, and is the premier guiding force of the live electronic music industry in China today. Its mission is to become the leading vertically integrated electronic music platform in Asia, bringing the biggest and best destination electronic music experiences, music, video, news, and culture.
Since inception, A2LiVE has showcased many well-known international and homegrown artists in China including Axwell & Ingrosso, Skrillex, Hardwell, Afrojack, Dash Berlin, Avicii, David Guetta, Wang Lee Hom, Benny Benassi, Afrojack, Cazzette, Icona Pop, Oliver Heldens, Far East Movement, Pitbull, Kanye West, Incubus and many more.
A2LiVE's "Budweiser STORM" electronic music festival toured 5 markets in 2016 and energized 180,000 festival goers, with multiple new cities coming online in 2017. This year also marks the launch of DianYinTai (streaming electronic music service), growth of A2LiVE's artist management holdings (A2ARTIST and Strobe Light Talent), unveiling of its new DJ/production academy and record label divisions, and other related businesses. Find out more at www.a2live.cn